Belize Beach Weddings
You found paradise when you found each other. Now it's time to commit to each other forever. Continue your adventure in paradise with a perfect beach wedding at Laru Beya Resort on the beautiful white sandy beach in Placencia – also known as "barefoot perfect"!
A Belize beach wedding is an exotic fantasy that we can make come true for you. Whether you want a ceremony that is fun & casual, or elegant & classy – or, anything in between – our experienced Wedding Coordinator at Laru Beya will make your dream wedding a reality. Our on-site coordinator will assist in obtaining a marriage license, priest or justice of the peace to officiate, wedding cake, tropical bridal bouquet and flowers, rehearsal, reception, photographer/videographer, local DJ- and a variety of other items to make your wedding a perfect one.
And, the honeymoon begins immediately at our premiere Belize beach resort on the Caribbean Sea. We can easily accommodate a mid-size wedding party. Laru Beya will also help you plan every detail of your dream honeymoon. Spend the beginning of your new life together with sea and land adventures. Snorkel or dive the reef, hike the jungle, visit ancient Mayan sites and trek through majestic caves. Or spend quiet time on the famous "Barefoot Beaches" and exploring the lovely village of Placencia. It's all available here for you.
Sand & surf, sun & serenity, but mostly, love & romance! Dreams come true at Laru Beya!
Laru Beya is the ideal location for a Belize destination wedding.
Beach Wedding Ceremony for two: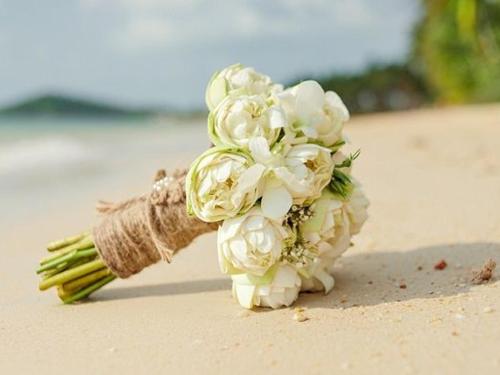 Dreaming of a romantic wedding in a tropical Paradise? Perhaps your dream is a more traditional beach wedding or sunset wedding ceremony, overlooking the turquoise Caribbean Sea? Regardless of what you have in mind for your special day, our on-site wedding coordinator will ensure that your day is filled with magical memories you will treasure for a lifetime. Laru Beya Resort, with its convenience of modern amenities, attentive professional staff and a host of convenient services all of which enhances your Belize vacation experience, is the true epitome of an experience you'll never forget. Read more…
Honeymoon Package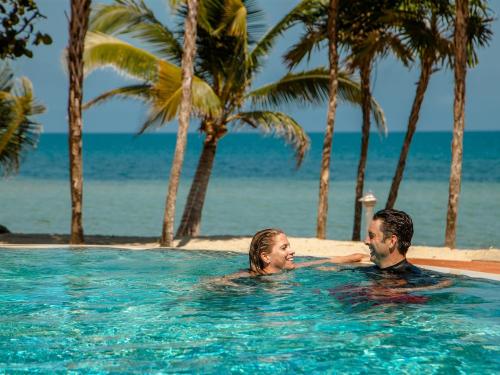 Relax. Take a deep breath. Get comfortable. Put on some romantic tunes and escape for a stress free vacation or honeymoon in Belize with one of our honeymoon pacakge. A romantic vacation or honeymoon awaits you at our tranquil resort on the pristine beaches of southern Belize! Read more…
Wedding and Honeymoon Package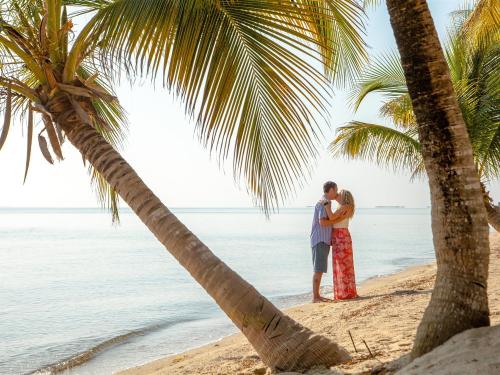 Are you dreaming of that perfect, hassle-free wedding with the clear blue Caribbean sea as your backdrop? Or are you looking for simple, natural, barefoot nuptials? Then Laru Beya is a great place to say "I do" to that special someone. After your wedding, indulge yourself in the comfort of our luxury beachfront suites. Our exotic wedding/honeymoon package is tailor made to fit your dream come true on that special day. We know that this day is important, so our wedding coordinator will take care of the all details for you! Read more…